To remove a tappet and install a new one, simply take down the camshaft and the lever on it in turn. Working principle of hydraulic tappet:
The hydraulic tappet mainly works under the principle of oi pressure, making use of the gap between the tappet and the seat hole, the gap between the valve stem and the tappet, and the ball check valve;
When an operation cycle of the hydraulic tappet starts, due to absence of oil pressure in the chamber, the tappet plunger is located at the bottom, and there is a large gap between the tappet and the valve. The valve will generate a short noise;
With the engine running, under the oil pressure, the plunger chamber of the tappet is filled with oil, causing the plunger to move downward. As a result, the effective working length of the tappet is increased, and the valve gap is reduced;
As the force generated by the tappet is too small to compress the air valve spring, when the gap between the tappet and the valve is narrowed to a certain extent, the tappet will cease to move;
In the meanwhile, under the effect of the ball check valve in the tappet plunger, the oil in the plunger chamber will not be drained immediately, and the plunger will remain in its original position and at its original length, thus generating rigid force that pushes the valve open. As the engine continues to run, the valve gap will reach the largest level and the valve noise will disappear at a certain point during this process.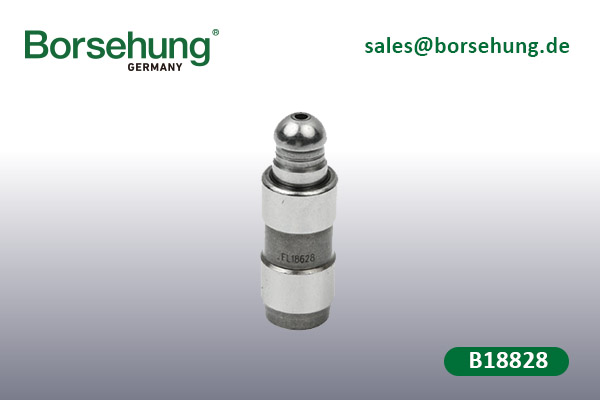 Name: hydraulic tappet
Ref No. : 030109423
Replacement Ref No. : 030109423B/036109423A/036109423D
Applicable models:
Skoda: FAB 00-15/FABI 09-14/OCT 01-13/RAP 13-/RAPI 12-/RO 06-15/SUP 08-15/YET 10-18
VW: FO 05-12/FOA 04-10/GL 04-11/AME 17-/BE 02-17/BEC 03-17/BO 99-05/CA 96-15/CC 12-17/EOS 06-16/FO 05-12/GOC 12-16/GOLF 98-13/GOPL 05-11/IMOT 77-10/JE 06-18/LU 99-06/PA 06-15/PACC 09-12/PO 95-15/POC 00-02/POCC 08-09/POS 04-06/PR 04-06/SA 10-13/SU 11-14/SCI 09-18/SHA 11-16/TIG 08-18/TOU 03-15
Seat: AL 11-15/ALT 07-15/AR 97-04/CO 99-09/IB 99-15/IN 96-03/LE 00-13/TO 99-15
Audi: A1 11-14/A2 00-05/A3 04-13/A3CA 08-13